Being arrested on a federal charge can be a traumatic experience. Normally, the feds come early in the morning, they knock down the door, and they make a search of your house. If this were to happen to you, Attorney Javier O. Martinez can help protect your rights. His experience is extensive in these types of situations. Call him at (832) 322-6707 for a free case evaluation.
The Federal Process
Types of Federal Cases
The Arrest
Unfortunately, you or your family member was arrested by the feds. In Houston, people arrested for a federal crime are usually taken to the Federal Detention Center. The website for this facility is the following https://www.bop.gov/locations/institutions/hou/. In other cases, although unusual, they are taken to the Joe Corley Detention Center in Conroe, Texas. The website to this facility is the following https://www.ice.gov/detention-facility/joe-corley-detention-facility
Attorney Javier O. Martinez has defended cases in federal court in Houston and other jurisdictions outside of Texas. If your family was arrested in a city other than Houston, please call us at (832) 322-6707 so that we can help try to locate your relative. If you prefer to do it online, this page might be able to help you.
There will be a period of about 24 to 48 hours that you will not be able to locate your family member. But, if you call my office, there is a possibility that we can locate the accused for you and give you some information about how the process moves forward.
The Bond Hearing
In federal court, the accused is not always entitled to bail. In many cases, the accused has to fight to be free while awaiting trial. During this stage, it is critical to hire an experience federal criminal defense attorney to fight for your case. The bail hearing is usually within 5 days of when the defendant is arrested but it can happen sooner. Attorney Javier O. Martinez has experience in bail hearings and has obtained favorable results for his clients. Call (832) 322-6707 for more information.
The Criminal Process in Federal Court
A federal case typically lasts from 6 months to 2 years. The defendant usually does not appear in court until the trial or sentencing hearing. Most of the work in a federal case is done outside of the courtroom. At some point, a decision has to be made about whether the defendant will go to trial or plead guilty. The federal process can be long and stressful. If you are under federal charges, consult Attorney Javier O. Martinez today.
Federal Courts
My office handles federal cases all across the United States. In the State of Texas, there are four districts. This image shows you in which district your case may be located: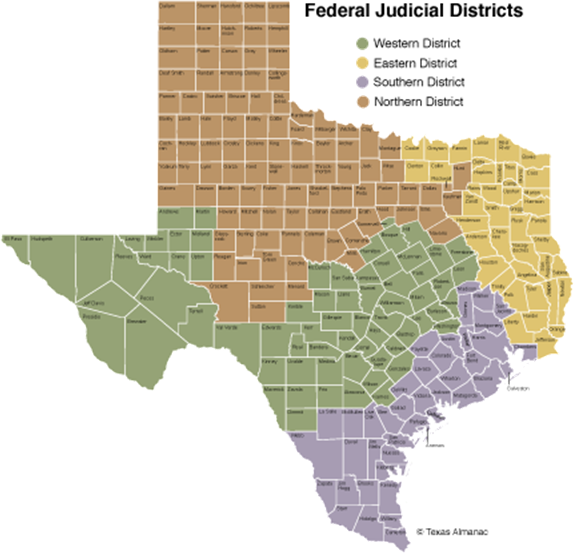 There are different types of federal cases in the United States. The federal system is very different from the state criminal justice system. Therefore, you need an experienced federal criminal defense attorney to handle your case. The federal courthouse in Houston is located downtown. The website is this
http://www.txs.uscourts.gov/offices/houston-division
The most common federal crimes are the following:
Conspiracy
Possession with intent to distribute drugs
Mail Fraud
Wire Fraud
Money Laundering
Possession of Child Pornography
Human Trafficking
Alien Smuggling
Federal cases can be complex. The government is usually aggressive against defendants who are in federal court. You can count on me to defend you against the government of the United States. Call me at (832) 322-6707.